Parcel Protection
Rapid Parcel only works with the world's finest courier firms to transport your goods, items and belongings so we are
confident that they are in good hands, but for valuable added peace of mind we offer shipment protection to all of our customers.
Shipping sector insurance specialists
To protect your parcels and packages whilst they are in transit we have teamed up with one of the leading specialists in the area of shipment protection, Pound Gates. With over twenty years of experience in our sector, ISO accreditation and as an approved coverholder at Lloyd's, Pound Gates is a specialist insurance broker to the shipping industry.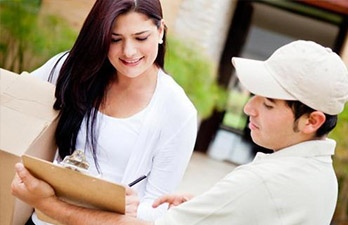 Protection designed for our customers
Our long standing relationship with Pound Gates has meant that we have been able to work with them to develop one of the finest shipment protection packages available on the market at an extremely competitive price. Because of our commitment to customer service we are continuously looking for ways to adapt and improve our shipment protection to always be at the forefront of our sector.
Your shipment protection explained
Should your parcel be lost or its contents damaged during shipping we have two levels of cover available to you:
(1) Basic shipment protection
Rapid Parcel accept liability for the first £50 of loss or damage.
(2) Enhanced shipment protection
Any parcel can be protected for up to £2,000 for an additional shipment protection fee. Note a £50 admin fee applies in the event of a claim for loss or damage. Please note that Rapid Parcel are not liable for the first £50 where enhanced protection has been purchased.
We go the extra mile
Customer satisfaction is of paramount importance to us, so should you take out our additional shipment protection and something were to go wrong we will provide you with your own point of contact to ensure that any incidents are resolved swiftly.
When you may not be covered
There are circumstances in which you can invalidate your shipment protection. Failure to pack your parcel securely (see our Packing Advice page for further information), or your choice to send items that are on our hazardous or restricted lists (see our Hazardous page for further information) will invalidate your shipment protection.
Copyright © Air King express All rights reserved.